Simon at Crookston Inn
August 05, 2022
Crookston Inn Job Placement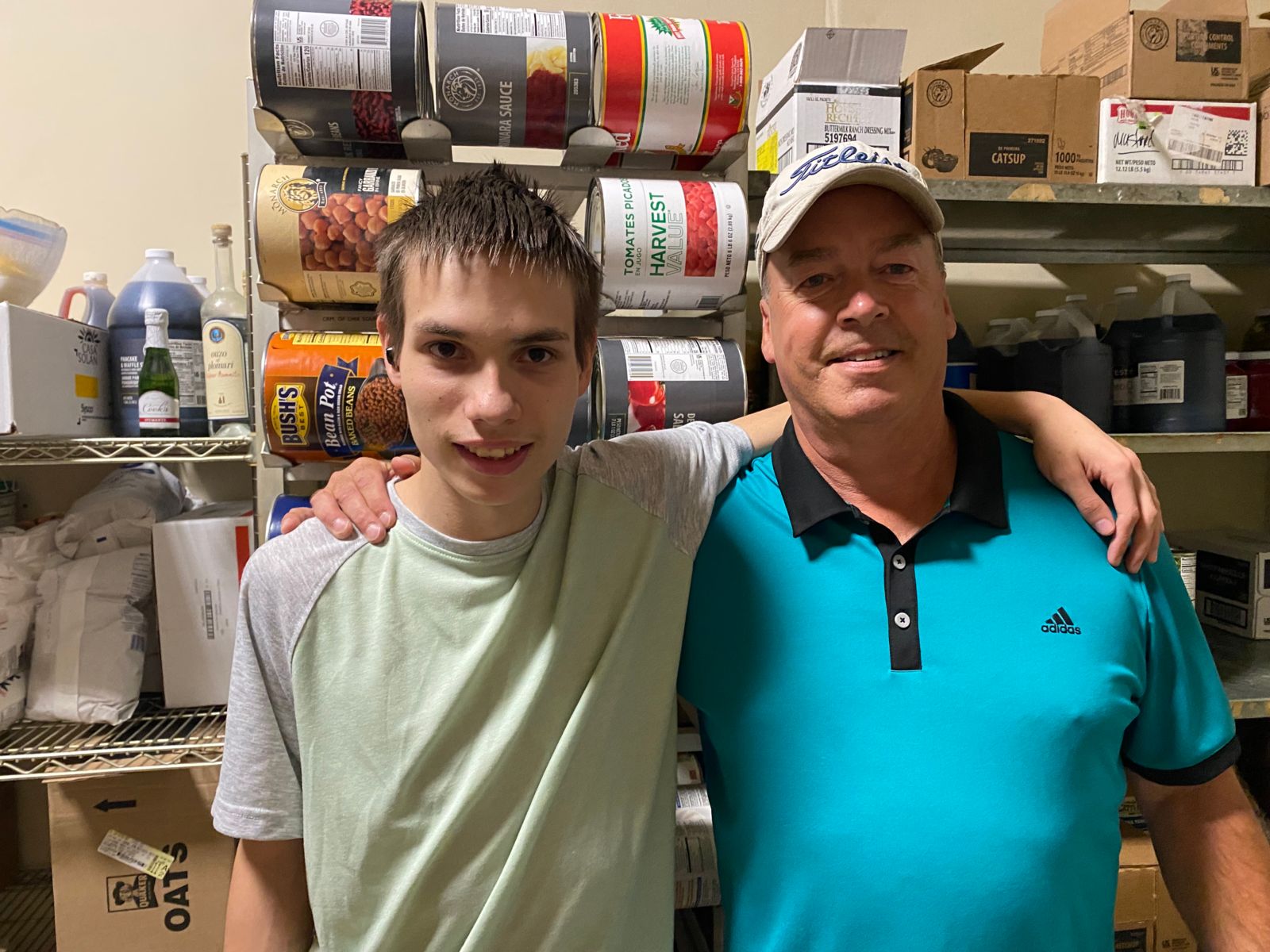 Simon and Craig
Vocational Rehabilitation (VR) made a referral to the Polk County Developmental Achievement Center (DAC) for Simon. VR and his parents asked the DAC to find a community job for Simon after he graduated from high school.
The team (Simon, his parents, VR staff, Case Manager and DAC staff) had an intake meeting on May 11th to get all the paper work completed and to open a case file with Vocational Rehabilitation. Janine, one of DAC job developers at the DAC spent time getting to know Simon by meeting with him on a weekly basis. They met to assess what Simon's desire was for working: what time of day he prefers for working hours, what kind of work, work with others or by yourself, can he tell time, does he have any medical needs, what is his work experience and a whole host of other explorative questions.
Once Janine understood the direction Simon wanted to go, they started to explore what jobs were available in Crookston that met his wants and needs. They began to pick up applications; one of them being for a dish washing job at the Crookston Inn. Simon applied and was hired on June 27th! He typically works 5:00-10:00PM Monday through Friday with a few exceptions of working one Saturday a month which shifts his hours during the week. Because of his disability benefits, the team needs to monitor closely that he does not go over a specific amount or he begins to lose benefits. That is not a bad thing, to earn so much, that his needs are less or he is less dependent on benefits. The issue is "getting them back" should anything change with his earnings.
Simon was a fast learner, and he was motivated to work independently (without a job coach). Emily (another DAC staff) job coached Simon on two evenings and he caught on quickly so after just two days, Simon was on his own (sort of). The staff at the Crookston Inn are now his support system while on the job. The DAC continues to check in with Simon and the staff at the Crookston Inn to make sure his employment continues smoothly.
Not too many weeks into his employ: Simon surprised all of us with his "unknown skills". He was working alone in the kitchen finishing up dishes between 9:00-10:00 (cook staff had left) when someone (unknown to him) entered the dry good area in shorts and a golf shirt. Simon had not met this person and found it suspicious thinking someone was there to steal food or someone who simply did not belong there.
Simon's Mom and Dad (Terry and Dan) have talked to him over the years about standing up for others and to question things that did not look or feel right. Terry expressed a time that Simon stood up for a peer at school that was getting picked on by others. He was named "Hero for a Day."
Simon used some forethought and excellent reasoning skills to approach this stranger. He was wearing ear buds that have an alarm on them as a possible distraction. He held the remote behind his back to press if the need arose to get someone else's attention (to help with this possible intruder). He told Janine (job coach) how he prepared for the 'confrontation': In addition to the ear bud alarm, he 'made himself as large as possible by standing tall, putting his hands behind his back to puff out his chest and he spoke in a loud and deep voice. Simon told to the stranger that he did not know him, and he should not be in there. The stranger, Craig Stahlecker (owner of the Crookston Inn along with his wife Laurie), started to laugh and informed Simon who he was and that he was the owner. Simon still was unsure so insisted that someone else confirm this as truth. Simon made Craig go with him to the front desk and that staff member also laughed and confirmed that Craig was indeed one of the owners of the Crookston Inn. Simon was then OK with the situation. Craig was so impressed with Simon and the initiative he exhibited, that he pulled out a $100.00 bill and thanked Simon for taking such good care of the Crookston Inn.
It was heart-warming to hear of the support Simon received from the staff at the Crookston Inn AND so impressed by the steps that Simon took to assure no one was in the dry goods area that should not have been there. Way to go Simon!!
After this interview, we asked Simon where we should take a picture, his reply: "Let's return to the scene of the crime, in the dry good area."